Sailing Team
Ian Walker's Abu Dhabi Ocean Racing crew for the Volvo Ocean Race 2014-15 is a potent blend of experience and exciting new talent which includes several familiar faces from the last campaign as well as some newcomers.
New race rules have reduced the number of sailors from 11 down to just eight this time around. However, just like last time the teams will have an on board reporter to keep our fans up to date with everything that goes on while Azzam is at sea.
Donning Abu Dhabi crew uniforms for the second consecutive time are under-30 helmsman and trimmer Adil Khalid (United Arab Emirates), navigator and helmsman Simon Fisher (Great Britain) and bowman Justin Slattery (Ireland).
Making their first appearances in ADOR colours are helmsman and trimmer Phil Harmer (Australia), pitman & boat captain Daryl Wislang (New Zealand) and under-30 bowman and helmsman Luke Parkinson (Australia).
Completing Walker's lineup is Spanish sailing legend and five-time Volvo Ocean Race veteran Roberto Bermudez de Castro. Better known as 'Chuny', the Spaniard has and amazing pedigree in the race, having finished outside the top three on only one occasion in his five campaigns.
The team's second under-30 sailor is Australia's Luke Parkinson whose track record includes a an Olympic 49er campaign and representing his country at the 2014 Red Bull Youth America's Cup in San Francisco. In contrast to his crewmates, this will be Parkinson's first ever Volvo Ocean Race.
Backing up the sailing team in a non-sailing coaching capacity is ADOR Performance Manager Neal McDonald, one of the most highly respected round the world sailors who has five Volvo Ocean Races to his name.

Ian Walker
Vital Stats
Boat Position: Skipper
Date of Birth: 25/2/1970
Hometown: Warsash, Southampton, UK
Height: 1.82m
Weight: 83kg
Nationality British
Top Sailing Achievements
2012 - Volvo Ocean Race, Abu Dhabi Ocean Racing - 5th
2004 - Olympic coach to Shirley Robertson - Gold
2001 - America's Cup - GBR Challenge - Skipper
2000 - Olympic star class (Helm) - Silver
1996 - Olympics 470 class (Crew) - Silver
Background
Cambridge University graduate Ian Walker is one of Britain's most successful sailors, with two Olympic silver medals, two America's Cup campaigns and two Volvo Ocean Race campaigns to his name.
A father of two from Southampton, Walker took the silver medal in the 470 class at the 1996 Olympic Games in Atlanta and followed that up four years later in Sydney with another Olympic silver, this time in the Star class.
He went on to lead the 2002 British America's Cup team and coach the British Olympic Yngling crew team to gold at the 2004 Olympics in Athens. Other career highlights include racing as tactician for the Italian +39 America's Cup campaign, winning the 2006 TP52 World Championship, and heading up the Green Dragon challenge for the 2008/09 Volvo Ocean Race.
As skipper of Abu Dhabi's debut Volvo Ocean Race campaign in 2011/12, Walker led the team to a number of notable successes including victory in the Rolex Fastnet Race, three Volvo Ocean Race in-port race wins (including one in front of 23,000 race fans in the UAE capital), and a memorable victory in the transatlantic Leg 7 from Miami to Lisbon.
If he hadn't become a professional sailor Walker says he would have played on the wing for his beloved West Ham United Football Club.
Adil Khalid
Vital Stats
Boat Position: Helmsman & Trimmer
Date of Birth: 8/10/1988
Height: 1.70m
Weight: 83kg
Nationality Emirati
Top Sailing Achievements
2011 - Volvo Ocean Race, Abu Dhabi Ocean Racing - 5th
2010 - Laser Standard Class, UAE National Sailing - 1st
2010 – Laser World Championships - Top 20
2010 - Asian Games - Qualified
2008 - Olympic Games - Qualified
Background
UAE national, Adil Khalid, made history in 2011 as the first Arab sailor to compete in the Volvo Ocean Race with Abu Dhabi Ocean Racing, helping to inspire a new generation of Emiratis to take to the water.
A rising star of the UAE National Sailing Team, the 26-year-old also became the first Emirati sailor to take part in the Olympic Games in 2008. In the same year, he competed in the Laser World Championships in Australia as well as at international Olympic Class regattas in Italy and Holland.
Adil continued to flex his Laser sailing credentials throughout the Arabian Peninsula in 2009, notching up wins at the UAE National Sailing Championship and Saudi Sailing Championship, and taking second places in the Qatar International Regatta and Bahrain Al Bareh International Regatta.
In 2010 Adil continued to pursue success in regional events in the lead up to competing at the Asian Games in Guangzhou, China that November.
Unbeknown to many, Adil has a secret talent for drag racing, a sport that he used to take part in as a teenager in the UAE.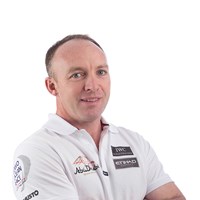 Justin Slattery
Vital Stats
Nickname: Irish
Boat Position: Bowman, trimmer and helmsman
Date of Birth: 8/3/1974
Hometown: Cork, Ireland
Height: 1.85m
Weight: 84kg
Nationality Irish
Top Sailing Achievements
2011 - Louis Vuitton Trophy La Maddalena - 2nd
2009 - Maxi One Design World Championships - 1st
2007 - Extreme 40 Championship - 1st
2005 - Volvo Ocean Race, ABN AMRO - 1st
2004 - Round the world record
1998 - Maxi One Design World Championships - 1st
Background
Ireland's Justin Slattery is universally acknowledged as one of the world's most experienced ocean racers. He has competed in four Volvo Ocean Races and was a part of the winning ABN AMRO crew in the 2005-06 edition. This will be his second campaign with Abu Dhabi Ocean Racing but his third with skipper Ian Walker as they sailed together in 2008-09 on Green Dragon.
Married with two children, Slattery counts experience, confidence, courage and decisiveness amongst his top attributes. He began sailing in Ireland aged 16 and competed in his first professional race nine years later.
Aside from his Volvo Ocean Races exploits, Cork-born Slattery set a trans-Atlantic record on the maxi Nicorette at the age of 23 and was bowman on American businessman Steve Fossett's record-breaking 2004 world circumnavigation. In 2005 he set a new Fastnet Race on the 100 foot ICAP Leopard – a feat he repeated in 2012 when he and the Abu Dhabi crew led the monohull fleet home in a new record time which still stands today.
Slattery says if he hadn't chosen a life on the open ocean as a professional sailor, he would have pursued his other ambition – to be an architect.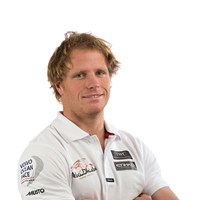 Luke Parkinson
Vital Stats
Nickname: Parko
Boat Position: Under 30 Bowman / Helmsman
Date of Birth: 22/2/1990
Hometown: Fremantle, Australia
Height: 1.85m
Weight: 89kg
Nationality Australian
Top Sailing Achievements
2013 - Red Bull Youth America's Cup
2013 - Audi Hong Kong to Vietnam Race – 1st
2013 - Keil Week – 10th
2013 - Sail for Gold, 49er class – 8th
2012 - Western Australian under-25 offshore sailor of the year
Background
24-year-old Parkinson is one of Abu Dhabi Ocean Racing's (ADOR) two under-30 sailors and is taking on the Volvo Ocean Race for the first time.
Parko, as he is known to the rest of the crew, raced alongside Ian Walker in the 2013 Hong Kong to Vietnam and Sydney to Hobart races. The ADOR skipper was so impressed with the young Australian's talent and work rate that he offered him a place in the Abu Dhabi crew.
Aside from being a top class bowman and helmsman Parko's other greatest assets are his superb physical strength and fitness – attributes which will serve him well as bowman.
Arguably the toughest and least enviable job on a Volvo Ocean 65, bowmen are regularly called on to leave the protection of the cockpit to work on the boat's foredeck fully exposed to whatever the weather chooses to throw at them. Tougher still, when someone is needed to go up the towering carbon mast, invariably all heads turn to the bowman to make the climb.
Parko began his sailing career at the age of five and competed in his first professional race at the 2010 Flinders Island race in Australia. After a spell campaigning on the Olympic 49er international regatta circuit, in 2013 Parko was part of the Objective Australia team which qualified to race at the Red Bull Youth America's Cup in San Francisco.
Away from the water Parko may be the most musical member of ADOR – he played cello as a youngster and now reports to enjoy the odd karaoke burst of Mr Brightside by The Killers.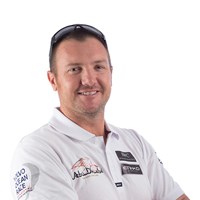 Phil Harmer
Vital Stats
Nickname: Wendy
Boat Position: Helmsman / Trimmer
Date of Birth: 26/6/1979
Hometown: Hamble, UK
Height: 1.87m
Weight: 92kg
Nationality Australian
Top Sailing Achievements
2012 - Volvo Ocean Race, Groupama – 1st
2009 - Volvo Ocean Race, Green Dragon – 5th
2005 - Volvo Ocean Race, Brunel
Background
Harmer brings a wealth of talent and experience to the Abu Dhabi Ocean Racing (ADOR) crew. This will be his fourth Volvo Ocean Race and the Australian, who now lives in the UK, is hoping to lift the trophy twice in a row after winning the last race with Groupama sailing team.
Nicknamed 'Wendy' after an Australian children's TV presenter with whom he shares a surname, along with his helming and trimming responsibilities Harmer is also in charge of managing the yacht's sail inventory. This is a key role as new race rules for this edition strictly limit the replacement of damaged sails, meaning the ADOR crew will have to make sure their race sails stay in good condition for the whole of the 39,000 mile course.
Wendy began sailing aged six in the Manly Junior Race in his home town. His first professional race was the 1998 Sydney to Southport race at the age of 19. His first Volvo Ocean Race was in 2005 with the Dutch syndicate Brunel, and his second was with Ian Walker's Green Dragon team.
If he hadn't become a professional sailor Wendy says he would definitely have been a fireman. A lover of sport, the Australian is a big fan of his compatriot the professional golfer Stuart Appelbey, and is also man with several hidden talents. Harmer was a rollerblader in his youth and lays claim to being a secret karaoke king with 'Benny and the Jets' by Elton John his 'go-to' tune.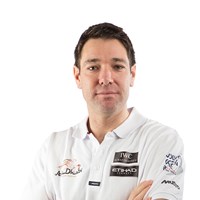 Simon Fisher
Vital Stats
Nickname: SiFi
Boat Position: Navigator
Date of Birth: 20/1/1978
Hometown: Hamble, UK
Height: 1.88m
Weight: 88kg
Nationality British
Top Sailing Achievements
2012 - Volvo Ocean Race, Abu Dhabi Ocean Racing – 5th
2009 - Rolex Middle Sea Race - 1st
2009 - Volvo Ocean Race, Telefonica Blue, 3rd
2006 - Volvo Ocean Race, ABN AMRO TWO - 4th
2001 - Round the world record
1998 - America's Cup - GBR Challenge
Background
A highly respected ocean racer and three-time Volvo Ocean Race competitor, Fisher – a.k.a. 'SiFi' - started racing in 1986 in Cadet dinghies in the UK. His excellent all-round skills, fastidious work ethic and easy-going character make him a favourite amongst his teammates.
SiFi returns to Abu Dhabi Ocean Racing as navigator so is responsible for formulating the team's routing strategy while racing – a role which requires expert skills in meteorology and navigation as well as a keen competitive instinct.
While racing, the teams all have the same weather data beamed to them each day from Race HQ in Spain and are banned from using any additional sources of information.
Aside from his duties at the nav-station, Fisher is also one of the fastest helmsmen in the ADOR crew.
In the 2008/09 edition of the Volvo SiFi was navigator on Telefonica (Blue). Two years later as navigator on ABN AMRO TWO he helped set the monohull 24-hour distance record.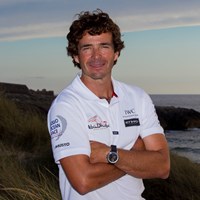 Roberto Bermúdez de Castro Muñoz
Vital Stats
Nickname: Chuny
Boat Position: Helmsman and Trimmer
Date of Birth: 3/1/1970
Hometown: La Coruña, Spain
Height: 1.77m
Weight: 81kg
Nationality Spanish
Top Sailing Achievements
2011 - Volvo Ocean Race, CAMPER ETNZ - 2nd 
2008 - Volvo Ocean Race, Team Delta Lloyd - 7th 
2004 - Volvo Ocean Race, Brazil 1 - 3rd 
2001 - Volvo Ocean Race, Assa Abloy - 2nd
1993 - Whitbread Race, Galicia 93 Pescanova - 3rd
Background
Roberto de Bermúdez Castro, universally known as 'Chuny', is Spain's most experienced and successful round-the-world sailor having competed in five Volvo Ocean Races finishing in the top three in all but one.
An industrial engineer by trade, Chuny has also competed in both the Olympics (Star Class in Athens 2004) and the America's Cup (in 1995 and 2000).
Chuny advocates hard work, a strong team ethic and personal fortitude as the key attributes of a successful Volvo Ocean Race sailor. With fewer crew for the 2014/2015 edition, Chuny says everyone on Azzam will need to multi-task and be able to helm, trim sails, work on the bow, and also navigate.
Married with three kids, Chuny knows it's not easy to strike a balance between 100 per cent focus on board and thoughts of the family back home.  For him, it's a dilemma that every sailor taking part in this gruelling race has to face, but through years of extensive offshore experience, he has come to terms with the idea of being away from home most of the year.
Chuny's personal hero is his father who first introduced him to sailing and is still competing. In 2013 Chuny took time off from the professional sailing circuit to crew for his Dad at Spain's Snipe Masters Championship.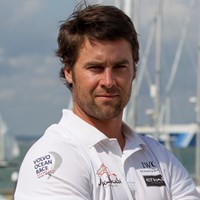 Daryl Wislang
Vital Stats
Boat Position: Pitman & Boat Captain
Date of Birth: 20/5/1981
Hometown: Nelson, New Zealand
Height: 6'
Weight: 88kg
Nationality New Zealander
Top Sailing Achievements
Volvo Ocean Race 2008-09 Telefónica Blue 3rd 
Volvo Ocean Race 2011-12 CAMPER with Emirates Team New Zealand 
Background
Two-time Volvo Ocean Race competitor, Wislang lives by his grandfather's advice: "if a job is worth doing, it's worth doing properly." His 'can do' attitude makes him a hard worker, a valuable team member and a confident leader, listening to others and offering support as needed.  
Wislang joins the Abu Dhabi Ocean Racing team as pitman & boat captain – two roles that place him in the thick of the action. His main responsibility is to ensure the boat and crew are ready for racing, keeping communications open at all times.
In previous editions of the Volvo Ocean Race, Wislang was sail maker on Movistar (2005 - 2006) and bowman, trimmer & driver on Telefónica Blue (2008 - 2009) and on Camper (2011 - 2012).    
Beyond the Volvo Ocean Race Wislang has competed extensively on the international regatta scene.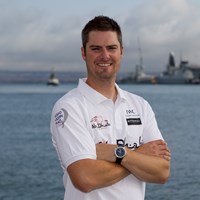 Matt Knighton
Vital Stats
Nickname: Xerox
Boat Position: On board reporter
Date of Birth: 9/4/1984
Hometown: Chicago
Height: 6' 2"
Weight: 95 kg
Nationality American
Top Sailing Achievements
2013 – Argo Group Bermuda Gold Cup
2013 – Chicago Match Cup
2013 – Korea Match Cup
2013 – Match Race Germany
2013 – Congressional Cup
2012 – Monsoon Cup
2012 – Argo Group Gold Cup
2012 – Chicago Match Cup
2011 – Chicago Match Cup
Background
Knighton is an accomplished commercial videographer and keen racing sailor with proven photography and storytelling skills. His professional tenacity in demanding environments make him the perfect match for Abu Dhabi Ocean Racing (ADOR).
While on board Azzam, Knighton will be responsible for documenting every nautical mile of the Volvo Ocean Race, producing great media content as he did during back-to-back transatlantic crossings in June and July 2014.
Based in Chicago, Knighton's impressive resume includes directing the 2013 documentary Black Hawk Down: Return to Mogadishu, shot in a Somalian war zone.