Kiwi rugby stars scrum down with Abu Dhabi Ocean Racing
Abu Dhabi, UAE, 15 March 2015:New Zealand rugby heroes Richie McCaw and Dan Carter threw their support behind Abu Dhabi Ocean Racing (ADOR) today as the crew, led by double Olympic silver medallist Ian Walker, prepared to take on the notorious Southern Ocean on Leg 5 of the Volvo Ocean Race (VOR).   
ADOR, the VOR entrant from the United Arab Emirates capital – along with the other five teams competing in the epic, round-the-world race – will have to wait at least an extra 48-hours before leaving New Zealand on Leg 5 of the round-the-world yacht race to Itajaí, Brazil, after Tropical Cyclone Pam forced race organisers to hold the fleet in Auckland until Tuesday at the earliest.
New Zealand rugby heroes Dan Carter and Richie McCaw were to be on-board Azzam for the leg start and jump from her stern as ADOR left Auckland, which was originally scheduled for Sunday. However, expected 40-knot winds ruled out any sailing in Auckland and the celebrated rugby internationals had to settle for a tour of the Abu Dhabi yacht from ADOR skipper Walker.
"Dan and I wanted to give Ian and the guys a good send off on Leg 5 and we had been putting some serious thought into our jumps," said McCaw. "I was particularly keen to try out a back flip so it's a pity Pam has put paid to those plans. Even so, it's been great to meet the Abu Dhabi crew and get a chance to look around Azzam."
And Carter added: "The race has been incredibly close so far and there is a real atmosphere of anticipation among the crew before they set off for Brazil. Having been down below on Azzam, I now have a much better appreciation of how tough these guys have to be. I can't imagine what it must feel like to be heading off so far south and around Cape Horn."
When the pair challenged each other to see who was fastest on a grinding simulator, it was McCaw who came out ahead. Then, up stepped ADOR under-30-sailor Louis Sinclair whose arms were a blur as the 24-year old Antiguan eclipsed both their times.
"That's pretty impressive technique," said McCaw admiringly afterwards. "To be honest though, I was just trying to make sure I beat Dan – so for me it's 'job done'."
"There is no doubt how fit and strong the sailors are," added Carter. "They have to be to trim the sails and moving all the gear about while you are crashing through the ocean must be backbreaking – and you have to do it for weeks at a time."
The rugby duo rounded off their ADOR visit by throwing and kicking signed mini-rugby balls from Azzam's foredeck to a crowd of cheering fans who had gathered on a nearby bridge.
"It's been fantastic to spend time with Ian and his crew and find out more about this amazing race they are in," said Carter. "I will be following their progress closely on the next leg and for the rest of the race."
And McCaw added: "I wish them nothing but fair winds and safe passage. Leg 5 looks like it's going to be brutal so sail fast and stay safe guys."
Race management officials tracking Pam since the tropical depression formed a week ago reacted promptly to delay the start when it became clear that the huge storm's path would cut a swathe through the fleet on the first night if the yachts departed as originally scheduled on Sunday.
As well as expected 50 to 60 knot peak winds, the prospect of an horrendous sea state and waves of up to 20 metres meant officials decided to hold the fleet back until at least Tuesday. It was a move that had the full support of Walker.
"We have been watching Pam's progress closely and it became increasingly clear that it would have been foolhardy to start the race on time," he said. "The skippers and the race management team worked closely together and it was a sensible decision to delay while the worst of it passed."
So far in this edition of the race the ADOR crew's strategy of minimising risk, sticking close to the fleet and keeping cover on their nearest rivals has served them well. They have yet to finish off the podium and hold the overall race lead, albeit by the narrowest of margins: tied on points with second place Dongfeng Race Team and in top spot because they lead the In-Port Race Series.
Leg 5 promises to be the toughest challenge Walker's crew has encountered so far, but the skipper says his highly experienced team is ready to take it on.
"We are in good shape in the standings and in our preparation for the Southern Ocean," Walker said. "The shore crew have done a fantastic job yet again of getting Azzam primed and race-ready and that gives us a lot of confidence. We will use the extra time Pam has given us to eat well and get plenty of sleep, as we know we will get precious little of either until we get to Brazil."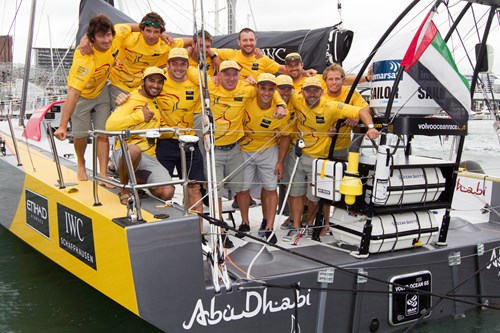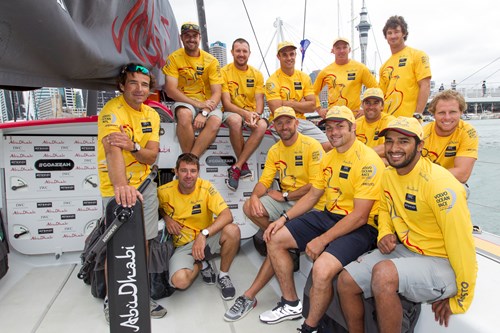 Back to the news list