TCA ABU DHABI WEIGHS ANCHOR ON VOLVO OCEAN RACE DESTINATION VILLAGE
Abu Dhabi: Thursday, December 11, 2014 - Abu Dhabi Tourism & Culture Authority (TCA Abu Dhabi) today hosted a VIP preview tour of its purpose-built  Volvo Ocean Race Destination Village on its stunning Corniche Breakwater, which will open to the public tomorrow (Friday, December 12).
The 35,000 square metre, waterfront, village will be the hub of three weeks of sports, entertainment and leisure as part of the UAE capital's stopover hosting of the hardy Volvo Ocean Race fleet, which is expected to arrive from the 6,125 nautical mile Leg 2 from Cape Town on Saturday December 13. The village is 30% bigger than in 2011/2012 when Abu Dhabi last hosted the Volvo Ocean Race.
Ahead of the tour, HH Sheikh Sultan Bin Tahnoon, Chairman, TCA Abu Dhabi and Department of Transport, Government of Abu Dhabi said he expected the UAE capital to be the "stand-out" stopover of the race, which will visit nine stopover destinations on its epic, round-the-world challenge which began in Alicante, Spain and ends in Gothenburg, Sweden next June.
"This is a destination in its own right for our residents and the many visitors we expect in Abu Dhabi over the coming weeks and New Year," said Sheikh Sultan. "It is active, engaging, entertaining and provides something for all nationalities and age groups.
"Naturally it is compelling destination for sailing and watersports fans yet has many aspects that will appeal to those who have never ventured out into the ocean. The village has been created with the support of many key stakeholders who should be congratulated on their efforts. Yet again, Abu Dhabi has shown how coming together as one delivers excellence of product and I believe visitor feedback will bear out this sentiment.
"The village is also a headline promotion of our centuries-old maritime heritage with many activities celebrating our sea-going past and showing how Abu Dhabi was, and remains, at one with the sea."
Today's VIP tour was led by Volvo Ocean Race CEO Knut Frostad and attended by: Sultan Al Dhaheri, Acting Executive Director Tourism, TCA Abu Dhabi; Majid Al Muhairi, CEO Abu Dhabi Sailing & Yacht Club; Salem Al Romaithi, CEO, Abu Dhabi International Marina Sports Club; Omar Kaddoura, President & CEO, Rotana Group, the stopover hospitality sponsor, Abdulkareem M. Al Masabi, Vice President – Port Operations, Abu Dhabi Ports Company; Major Ali Al Suwaidi, President, Emirates Marine Environmental Group and Faisal Al Sheikh, Director, Events Bureau, TCA Abu Dhabi.
Sailing fans from around the world, race sponsors and families of the seven teams contesting the gruelling, 38,739 nautical mile challenge are expected to descend on Abu Dhabi over the coming weeks delivering a year-end boost to the UAE capital's tourism industry.
Boat operator Xventures said Stopover demand for craft has been such that it has drafted additional vessels into its fleet.
"We operate a fleet of five boats in Abu Dhabi and would usually operate at about 75 percent capacity over the Festive period with certain days sold out but we have had to bring in a number of additional boats to cover demand from the Stopover, especially around race days,"  said Tony Hajj, CEO, Xventures, Abu Dhabi. "We've also seen an increase in uptake across our other activities as the city attracts teams and their families as well as additional international visitors, many of whom are staying for extended periods this year."
The Rotana Group is also reporting strong response with an influx of race-related bookings.
"Such initiatives are extremely important and give this great destination tremendous worldwide exposure. We truly believe Abu Dhabi is the ideal destination to host such events and are ready to welcome thousands of race guests to our properties," said Rotana President & CEO, Omer Kaddouri.
"Rotana has extended its full marketing support via of customers and 'Rotana Rewards' members through branding, advertising, and digital signage in over 50 Rotana properties across the region. The event has boosted occupancy and served us well during the festive season. Rotana will host thousands of executives, teams, crews, spectators and tourists travelling from around the globe, over six weeks in December and January and will receive over 3,000 room nights in its properties in Abu Dhabi during the Stopover."
The free-to-enter Destination Village has six distinctive and interactive zones covering: culture & heritage; adventure; family; exhibitions; team and haul out and the environment.
"We've increased the village opening hours by 25% after visitor feedback from our 2011/2012 hosting," explained Sultan Al Dhaheri. "In all the village will be open to the public for 225 hours, which is equivalent to almost nine and a half days and it will bring a heightened dimension to festive and New Year seasonal celebrations here."
Abu Dhabi's VOR Destination Village features 22 exhibition pavilions for visitors to tour, including five international pavilions from China, Sweden, Spain, the Netherlands and Great Britain.
"Each of our international pavilion partners will be promoting their own destination and cultural attractions," said Al Dhaheri. "Their presence underlines the importance of this market to these respective countries."
The village also features, for the first time, a 440 metre 'floating' Skyline Stage which will host live concert and solo performance by a range of international musicians and personalities as well as regular 'Cinema Al Mamsha' (Boardwalk Cinema) screenings of popular movies and regional premieres.
The Skyline Stage has been built into the sea bed off the Corniche by a team of 13 commercial divers with over six tons of underwater ballast.
The opening Skyline Stage performance will be on Friday night when the celebrated BBC Worldwide production 'Blue Planet In Concert' will be screened to music conducted by five-times Oscar-nominated composer George Fenton and performed by the 75-piece National Symphony Orchestra Abu Dhabi. The performance will run for a second night on Saturday and tickets are available from timeouttickets.com.
Over the coming three weeks the Destination Village will host stage performances and appearances by over 200 artists from 23 countries including Lebanese singing sensation Myriam Fares, Argentinian guitar maestro Dominic Miller, French marine adventurer Fabian Cousteau, the City of Birmingham Philharmonic Orchestra, Grammy nominee Kamal Massalam and Madrid's renowned 'El Corral de la Moreria' flamenco troupe.
 "In addition, contributions from over 80 traditional artisans, musicians and chefs feature in the Destination Village programme thanks to partnerships with cultural stakeholders, such as the Khalifa Fund, Abu Dhabi Falconers Club and Soqur Al Mqbeel," explained Al Dhaheri.
 "The community has responded enthusiastically to the village with over 7,500 man hours being contributed by 220 volunteers working during the 23 day stopover."
The village will also host, for the first time in public, the model of the UAE capital's planned Mina Zayed permanent cruise terminal in a pavilion, mounted by Abu Dhabi Ports Company, where visitors can enter a contest for a chance to win a US $1,000 voucher towards a Royal Caribbean International cruise.
The village opens daily from 12 noon to 9pm Sunday-Thursday and 11am to midnight Fridays and Saturdays until January 3rd when the fleet leaves on the third leg of the race to Sanya in China.
Aside from the ongoing activities and entertainment, village-goers will be able to buy refreshments from 12 cafes and restaurants spread throughout the venue including themed stalls serving shawarmas, Arabic sweets, European, Asian and Mexican cuisine. A special 'show kitchen' is at the heart of the 'Galley' area and features live cooking demonstrations from professional Spanish, French, South African, Swedish and Emirati chefs.
TCA Abu Dhabi, which is behind the emirate's VOR campaign is using the event to highlight Abu Dhabi's swelling sailing and watersport credentials.
"We have it all," said Al Dhaheri. "Fabulous active marinas, superb winter weather, first-class watersports suppliers, clean seas and generally ambient prevailing winds.
"At this particular event the outdoor life will be in prime focus with over 150 hours of watersport and beach sport events involving upwards of 1,500 people from UAE schools, rugby and soccer clubs, sailing, paddling and fitness clubs. If you live here, there's no reason to stay indoors at this time of year – and if you live elsewhere and want to escape grey skies – this is the place to be."
The packed destination village programme is available on www.abudhabievents.ae and www.volvooceanraceabudhabi.ae. Highlights include the December 14/15 fleet arrivals, the January 2nd in-port race and the January 3rd race restart.
"All will be marked by distinctive, culturally-slanted parades and celebrations which we want everyone to see and enjoy," said Al Dhaheri.
Meanwhile, from December 15, Destination Village goers will be able to visit 'The Boatyard' and get bird's eye views of the competing Volvo Ocean 65 yachts including 'Azzam' (Determination) of Abu Dhabi Ocean Racing (ADOR) – the emirate's own entry. A public viewing platform, built eight metres above ground, will allow visitors to watch shore teams as they work to prepare their vessels for Leg 3.
A series of 'Meet The Crews' sessions are also being planned so the public can get up-close-and-personal with the VOR 'Heroes Of The Seas.'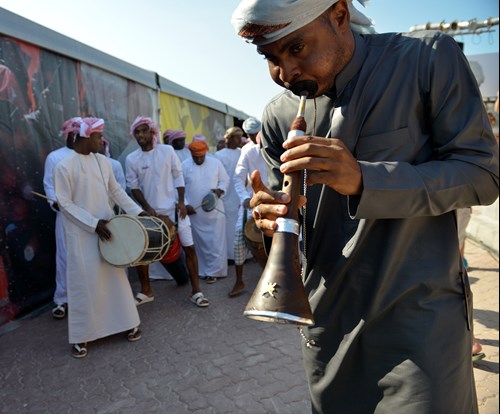 Back to the news list