FROM LAND TO SEA: MCILROY AND WALKER STAGE 'WORLD'S LONGEST DISTANCE' SELFIE
Abu Dhabi, UAE (17 January, 2015) - The world's longest distance selfie was taken today, connecting thousands of miles between world number one Rory McIlroy and Abu Dhabi Ocean Racing skipper Ian Walker.
McIlroy, who is chasing Martin Kaymer in the Abu Dhabi HSBC Golf Championship, discussed winning strategies with Walker as he steered the iconic racing yacht Azzam across the Indian Ocean. 
Walker, currently pursuing Chinese boat 'Dongfeng' on Leg Three of the Volvo Ocean Race, congratulated McIlroy on yesterday's hole-in-one, which took place on Hole 15 in front an Azzam backdrop – his first on the European Tour.
Before the 'surf & turf' selfie commenced, McIlroy questioned the champion skipper about his motivation and how he keeps going for such a long period of time.
Walker told him: "Same as you on the course – the motivation is to win!"
The selfie can be viewed at www.facebook.com/abudhabioceanracing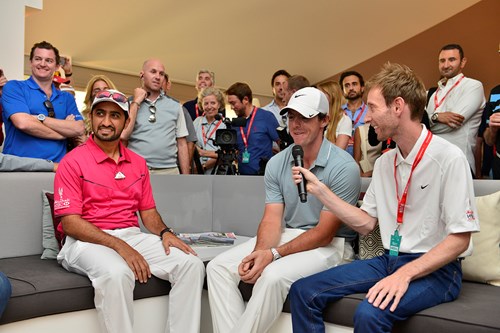 Back to the news list