ABU DHABI OCEAN RACING GIVES SAILING FANS THE CHANCE TO 'JUMP' AT AN OPPORTUNITY OF A LIFETIME THROUGH ITS NEW FACEBOOK GLOBAL COMPETITION
Abu Dhabi, UAE, 16th December 2014: Worldwide sailing fans are being given the chance to join an illustrious group of sporting superstars as Abu Dhabi Ocean Racing (ADOR) – the UAE capital's entrant into the Volvo Ocean Race (VOR) – launches a facebook competition on its official page to win a once-in-a-lifetime thrill.
ADOR recently reached the finish line of Leg 2 of the round-the-world sailing challenge to a podium finish at their home port of Abu Dhabi – where a 23-day festival of entertainment and culture awaits at the UAE capital's Destination Village.
Visitors are currently enjoying and taking part in a huge range of watersports and cultural activities in the village and taking in all the attractions of the emirate and can now top off the experience by joining ADOR onboard its yacht Azzam for the start of Leg 3, on January 3.  Not only that, but the lucky winner will get to perform the traditional 'Jump Off' from the yacht, as it speeds out of port on its way to China as part of Leg 3.
The winner will join a star-studded group of people who have performed the feat – including French football legend Zinedine Zidane, England cricket stars Graeme Swann and Captain Alastair Cook, as well as South African rugby legend Francois Pienaar, who took the leap from the deck of Azzam at the start of Leg 2, from Cape Town last month.
All fans have to do to be in with a chance of winning this amazing prize – which comes along with an all-expenses paid trip to visit the Abu Dhabi Volvo Ocean Race Stopover from anywhere in the world – is to get jumping.
Simply submit a video or photo of you or a group of friends - via the Jump4Azzam facebook application: http://on.fb.me/1zmZUDB on the official Abu Dhabi Ocean Racing Team facebook page:  https://www.facebook.com/AbuDhabiOceanRacing- of you JUMPING, or you about to JUMP from the most creative spot… no need to jump off a yacht just yet! Once your video or photo is up, get your friends to vote for it as fast as you can. The most "liked" video or image wins this amazing once-in-a-lifetime prize!
Submission of entries to the competition will close on 22nd December 2014 and the winner will be announced on 23rd December 2014.
It is important to note that participants and the subsequent winner must be able to travel on 31st December 2014 / 1st January 2015 to Abu Dhabi, UAE. The winner must also meet visa requirements, in line with the Federal policy of the UAE. In addition, the winner must fly from a dedicated Etihad Airwaysdirect destination (code share services will not apply).
Be part of this exiting competition today. Visit the competition app: http://on.fb.me/1zmZUDB
The stopover is currently taking place at the VOR Destination Village from 12th December to 3rd January, with three weeks packed with sailing, watersports, entertainment and culture highlighting Abu Dhabi's union with the sea and its maritime heritage. A large amount of tourists and residents are expected to visit.
For more information about Abu Dhabi's 2014/15 VOR Stopover please go to www.volvooceanraceabudhabi.com or visit our Facebook and Twitter pages at www.facebook.com/AbuDhabiOceanRacing and @ADORlog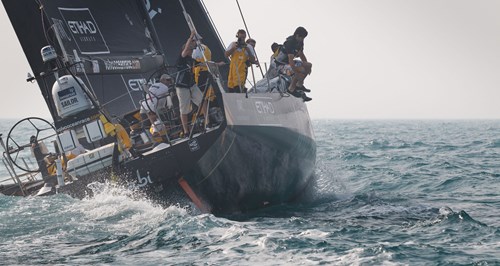 Back to the news list